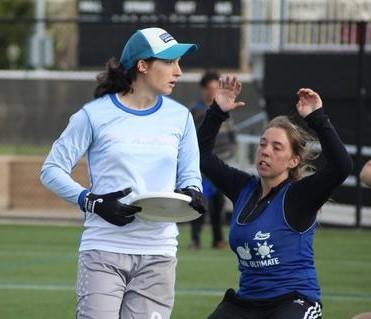 Welcome Jenna Weiner as our First Female Partner Player
Layout is excited to announce our newest partner player, Jenna Weiner! Jenna will be the first female partner player of Layout Ultimate! 
Jenna started playing in 2011, she is 24 years old, 5'9" and right hand dominant.
First off, thanks Jenna for taking the time to do this interview! Can you tell us about when you started playing and your highlight of your ultimate career?
I started playing ultimate in 2011 at UC Berkeley, first at the intramural level before playing with the college men's B team starting in 2014.  The highlight of my ultimate career would probably be from college when our team played a tournament with a short bench of only 9 players. Even with the short bench, we ended up taking 2nd place!
Playing with minimal subs / savage is always tough! Congrats on that accomplishment. Why do you love playing ultimate?
I love playing ultimate because it's an amazingly fun sport to play with great communities and fantastic people. The ability of ultimate to instantly connect you to people around the world and bring people together is awesome, and the ultimate community is a real and powerful thing.
The Ultimate community is something special that we are both lucky enough to be a part off! What does it mean to you to be a female athlete?
Being a female athlete to me means finally being myself while continuing to be the athlete I've always been. It means being able to create bonds and community with other women in ultimate in the push for more equitable involvement and representation on and off the field. And it means that I can be me, a woman and an ultimate player, and that's all I need to be.
The inclusiveness of the community is amazing for embracing and welcoming players from all walks of life. How has been your experience trying out for new teams?
My experience trying out for new teams has generally been really great. I'm in my second season playing with Cutthroat Ultimate out of Reno and they've welcomed me with open arms. I also tried out with some Bay Area women's teams this season, and I wrote a short article about the ups and downs of those tryouts with Skyd Magazine which you can check out here: my article in Skyd Magazine. 
Great article, thanks for sharing! Why do you wear Layout Gloves?
I wear Layout Gloves because they provide great grip with no impediment to my throws. They hold up well in rain, wind, and snow, and the included towel is definitely handy. The mesh on the back provides breathability while still providing protection against the elements. I really like them and definitely would recommend them to others.
Would you explain the concept behind #MTJ? 
More Than Just (#MTJ) is an effort to show the diversity of LGBTQ+ people and how we're more than just one identity or label. Too often LGBTQ+ individuals are reduced to just their token identities when they are so much more than just those identities. More Than Just aims to highlight this by having participants illustrate who they are in whatever way seems most appropriate to them and then we take a picture of their illustration and show it to the world. Interested in joining? Check out the Facebook page @morethanjustproject and contribute your own illustration!
As part of our partnership, we have created 50 limited edition gloves that will be raising funds for The Trevor Project with 25% of proceeds being donated to The Trevor Project.
Shout out VC Ultimate for the help creating this design! 
Founded in 1998 by the creators of the Academy Award®-winning short film TREVOR, The Trevor Project is the leading national organization providing crisis intervention and suicide prevention services to lesbian, gay, bisexual, transgender, queer & questioning (LGBTQ) young people under 25. If you would like to make a donation directly to The Trevor Project, please do this via this link: https://give.thetrevorproject.org/give/63307/#!/donation/checkout
Thanks Jenna for taking the for this interview and for being a positive roll model within the Ultimate community! We look forward to having you a Layout Ultimate partner player.