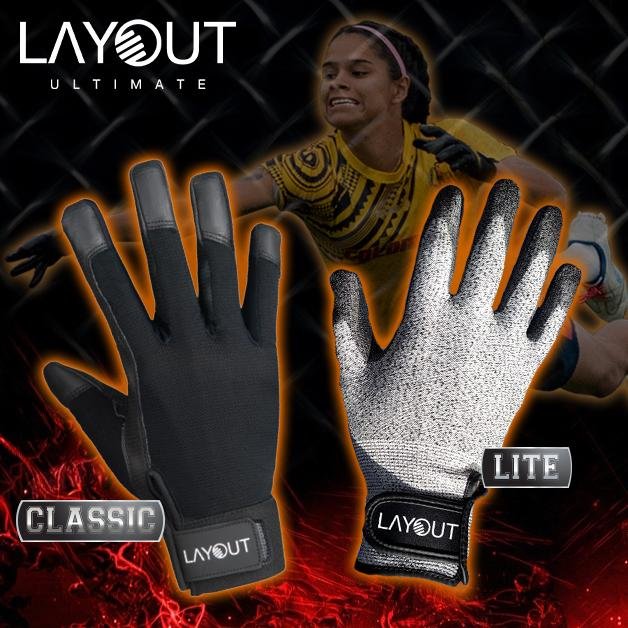 Introducing the Layout Classic and Layout Lite
Layout is excited and proud to announce that two new products, Layout Lite and Layout Classic, are joining our line of quality Ultimate gloves.
Layout Lite, our newest product, has a high level of grip with a seamless design that provides a skin-like feel and touch on the disc. This glove comes in a two-pack, perfect to ensure you always have a ready back-up pair or to share with a friend. We know gloves are easily lost (we know from your emails!) and this two-pack should keep you playing with confidence with a pair to spare. 
Available in four sizes, this glove has been designed to fit all hand sizes using our proprietary dipped coating that is designed to stretch and form-fit to hands.
The Layout Classic is the same design and performance as our original model but with an upgraded grip for high performance in all playing conditions. It offers the superior durability that Layout is known for. The Classic grip has been upgraded to provide a more supple feel and give more touch as the grip is thinner.  The Layout Classic continues to provide the "Ultimate Grip For Your Game" and is the highest level of grip available from any Ultimate brand. The Layout Classic comes with a 90-day replacement policy for any issues that may arise when using our gloves.  This glove has been our flagship product and will continue to be our 'Classic' glove. This glove is designed for all types of players, from cutters to handlers. Our flagship glove is trusted and true and is the official glove of eight AUDL pro-Ultimate teams as well as the official glove of Ultimate Canada, Estonia Ultimate, NUTC Camp, and many other top level club and recreational teams.
So what's the difference?
Similarities:
Both gloves provide a high level of grip for all playing conditions
The grips of both gloves are designed to provide high levels of durability
Both gloves enhance your game whether you're a handler or a cutter
Both gloves are lightweight averaging 28 grams per glove
Differences:
Seamless design for skin-like feel
Two-pack of gloves
No seams on fingers for a more natural feel
Overall warmer design with proprietary glove stitching
Four sizes available:  XS/S, S/M, M/L, L/XL
Flexible fit, glove material and grip are designed to stretch to form fit on hand (in between sizes, order the smaller size)
Two-Pack Retails for $24.99
Highest level of grip, unmatched grip, the highest level of grip in Ultimate

This unmatched grip can help provide more spin and distance:

"They provide a tacky but comfortable palm which prevents any slippage or perturbation while in the hand.  When isolated, such as working on throws in the park, this translated to 5-10 yards of extra distance on hucks, and increased snap and power on shorter, quick throws" - Brett Matzuka, Team USA Ultimate

90-day replacement policy
Mesh back (black) or jersey material back (white / poly) to allow breathability
Five sizes available:  XS, S, M, L, XL (if in between sizes, order the smaller size)
Highly durable
Layout Classic Gloves Retails for $24.99