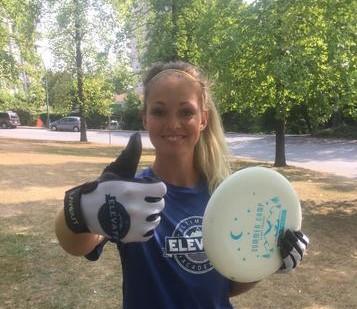 Welcome Danie Proby of Elevate Ultimate as a Layout Partner Player!
Layout is thrilled to announce our newest Layout partner player Danie Proby - co-founder of Elevate Ultimate and coach at Ultimate Peace.
Danie is 5'8", 29 years old (exposed as masters!) and is right hand dominant.
First off Danie, thanks for joining me for an interview! When did you start playing?
I started playing in my first year of college in 2009. I missed sports so much that I joined every intramural sport I could find. On my Ultimate frisbee day, someone was there recruiting for the college team at the University of Victoria and asked me to come to the next practice. I kept it cool but immediately called my mom and freaked out because I was so excited to be on a team again.
Playing at university/college is a great way to develop. I personally had most of my growth while playing at university. Why do you prefer to wear Layout Gloves?
Layout gloves kind of are like armour for me. They give me that layer of confidence that helps me focus on the game rather than my grip. I rely on the consistency and they never disappoint!
Glad to hear Layout gloves provide you a level of armour and confidence!  What was your highlight of playing with UVic?
In the beginning of my third year, we had a captain and coach meeting where we set out some lofty goals for ourselves. UVic had never been a big name team (I believe we were ranked #125 or something at that point) but we decided that by our fifth year, we would make it to USA College Nationals. We worked hard for those three years and built a strong culture and family at UVic. We lost in the game to go in our fourth year but got the bid in our fifth and final year and got to go to the show. Collapsed on the field and cried with my teammates. Can't write a better story.
Really can't write a better story, congrats on your team's hard work and reaching your goals! A true example of hard work and perseverance paying off for all the women on your team!
Can you describe what it is like being a female athlete (as an athlete that faces the inequity in sports)?  
This is an interesting question because it highlights the very nature of the issue. We are seen as 'female athletes' and not simply 'athletes'. Even more compartmentalizing for POC who are seen as a particular race, gender, and then athlete. But the question also creates space for dialogue around gender and sports because it doesn't hide from the fact that there are differences in how female/non-binary and male athletes are treated.
Being an athlete means you love the game. You work for it, you train for it. You get up early in the morning to workout. You identify the weaknesses in your game and work until they are your strengths. You give energy to your team and you have passion and love for the game.
Being a female athletes means you constantly have to prove yourself. Nothing is ever given so you learn to fight for everything you have. It can be incredibly frustrating at times but when you surround yourself with other female athletes it can be empowering. You look around at your teammates and you know that nothing has been given. No free passes. You all worked your butts off to get to where you are and because of it you are resilient.
Thanks for the well-thought out answer. Ultimate is an amazing community for inclusiveness, however still struggles with the inequalities that are common in society. At Layout, we want to partner with female players to empower and inspire other female players to step up or start playing this sport!  
Why do you love ultimate?
I love Ultimate for too many reasons. I love that it combines everything I loved about the sports I played growing up. It's beautifully athletic with an immense amount of skill and mental expertise required. I love the 'team' aspect of the game. Not just the team you wear the jersey for, but in a global sense. The community is something unparalleled in sports. I can travel anywhere and I have a community of people that will welcome me. Most of all, I love the way the disc flies in the air. There's something about clean offensive flow that feels especially poetic.
The ultimate community is seriously something special (Layout would not exist without it). We are lucky to be part of such an open and welcoming community and especially one that strives to crush inequities in the sport and world!
Can you tell us about Elevate Ultimate?
 Elevate Ultimate Academy provides high quality Ultimate Frisbee training for youth aged 6-19. Our aim is greater than helping an athlete make their school's A-team or even Team Canada (although we can help with this): Our mission is to pass on skills and values that will transcend the field, such as sportspersonship, personal accountability, and open-mindedness, through the Sport and Spirit of Ultimate.  
Thank-you for taking the time for this interview. Check out Elevate Ulimate if you want to elevate your game! We wish you the best of luck on the field and with Elevate, Danie. Welcome to Team Layout!
Learn more about Ultimate training from Elevate Ultimate.