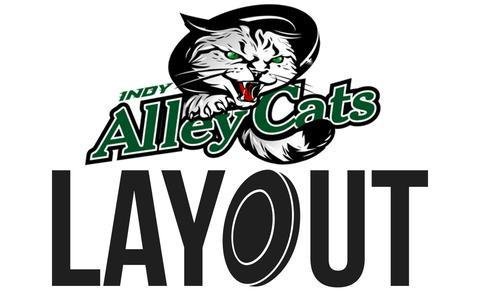 Introducing our first AUDL Partner in the MidWest, the Indy Alleycats!
Layout is excited to announce that we have partnered with the Indy Alleycats for the 2017 Season.  This is an especially exciting partnership for us as the Alleycats will be our first partner in the Midwest Division.
The Alleycats, a veteran AUDL team,  joined the league in the inaugural season in 2010 leading to a strong second place finish and clinching the Midwest Division Title. 
The Alleycats roster is stacked with players including Keenan Plew, Cameron Brock, Rick Gross, Travis Carpenter, Levi Jacobs and Layout's very own Nick Hutton. Keenan Plew is the overall league leader in assists with 241 assists since the AUDLs opening season (50+ assists more than the closer player).   Cameron Brock and Keenan are also league leaders in goals with 347 for Cameron and 222 for Keenan (both are overall point leaders also).
AlleyCats Top 10 from 2016 Season
"The Indianapolis AlleyCats are excited to announce that Layout Ultimate will be the official glove of the AlleyCats. From design creation to fit, grip and durability we feel that Layout is the premier ultimate glove in the market place and the ideal partner for the AlleyCats. Not only will our players be wearing Layout gloves this season, but for the first time ever we will be making AlleyCat gloves available to order for our fans as well." – Tim Held, Partner, Indy AlleyCats
Nick Hutton's superman grab from 2015
Layout is excited to expand our reach with the Alleycats in the MidWest division. Look for AlleyCats players this year decked out in custom, fully sublimated Layout Gloves or look to purchase the custom gloves at Alleycats homegames!  #WhatTheProsWear